Last instalment, I introduced the concept of using the past to evoke the future, and how it works, with a detour into The Fifth Element. This time, I'm going to go back into film design history for a bit, and talk about what makes this work.
My argument about this is that it can't simply be done for its own sake, or because it Looks Neat. With reference, as we have done throughout this series, to structuralism, there has to be a fit between the symbols used, and the thing being symbolised (for more on this sort of thing, and for those of you who like academic references, look up Dan Sperber's 1974 monograph Symbolism, or Lakoff and Johnson's Metaphors We Live By).
Let's take a look at Metropolis, one of the best known early SF movies, and also, though it's frequently not mentioned, one of the earliest examples of using the past to evoke the future. In the picture below, we see our male protagonist, Freder, pampered son of an elite capitalist, in the Garden of the Sons, a sort of leisure facility for men like him:
There's a few things to observe here. One of them is that Freder's own futuristic businesswear, with the natty jodhpurs, has ironically aged far less well than the 18th-century-inspired gear of the courtesans around him (supporting last week's point). The other, though, is that the period chosen is more than a little appropriate: if you want a complex of symbols associated with decadence and sexual license, with an added dollop of twee pastoralism, you could do far worse than raid the closets of the Ancien Regime.
Now the story's female protagonist, Maria. She's kitted out in a costume evoking medieval peasant garb to evoke the fact that she comes from the poor labouring classes of Metropolis, as well as providing a counterpoint to the Ancien Regime costumes of the courtesans (since, like the peasantry of France, Maria, or [spoilers] her doppelgänger, will later stage a revolution to overthrow the aristocrats):
And the story's anti-hero, mad scientist Rotwang, wearing a flowing black robe over his work coveralls, evoking medieval wizards alongside industrial imagery (not incidentally evoking the Industrial Revolution which was also kicking off in the 18th century):
So, one could say the use of a particular period aesthetic is appropriate because Maria is, symbolically, a peasant girl and Rotwang, also symbolically, a wizard (and the aristocracy they both severally oppose evokes the French nobility). But it goes further than that. This is a publicity picture from FW Murnau's film version of Faust, showing Camilla Horn playing Gretchen: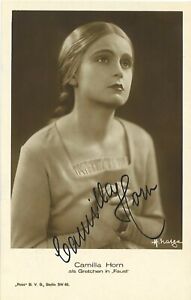 Note the resemblance to Maria's costume. Gretchen is also a simple, good soul who remains pure despite the trials life throws at her, and, like Maria, winds up at the hands of a mob determined to burn her at the stake. Faust also revolves around the activities of a magician who is drawn to do evil. So Maria's costume doesn't just evoke the peasantry, but provides its German audience with a complex of fictional symbols they would instantly recognise.
So what happens when you start evoking the wrong symbols, or evoking them to little purpose? Here we need to return to Star Wars, and take a look at the Prequel Trilogy. Here's Padme Amidala, from the first film (one example will suffice):
The costume's certainly pretty, and certainly looks ceremonial. The film is also heavily based on Kurosawa's The Hidden Fortress, so a Japanese aesthetic is, seemingly, appropriate. However, if you start to think about what it's referencing, it's not necessarily where you want to go. Padme's hairstyles and makeup continually evoke apprentice geisha (rather than the tomboy princess who is the heroine of The Hidden Fortress), giving an undertone of sexuality that's arguably not appropriate for a character who's defined more by falling in love with the wrong man than by providing entertainment and sex to male audiences.
Another of her costumes appears to borrow heavily from one of the characters in Fritz Lang's Die Nibelungen:
The character in question, though, is Kriemhild:

Kriemhild is a woman who avenges her husband's death at the hands of her brother by calculatedly marrying her brother's enemy, luring her brother and his men into a trap and burning a fortress down around their ears.
Kriemhild is one of my favourite characters in cinema, so actually I'd've liked a Padme Amidala who's both a cultured and sophisticated woman and a calculating schemer who uses her sexuality and her power to wreak a terrible revenge on the people who wronged her doomed husband. But since that's not the Padme Amidala we got, there's a cognitive dissonance to the way she's dressed.
Next time: cowboys in space.