Welcome back to The Colour Out of Space Opera (links to previous instalments: one two three four five six seven eight). One of my long-standing holiday traditions is to re-watch as many of the Star Wars movies as I can manage, which brings me nicely to the subject of the next couple of instalments: raiding the past.
From the first moment SF moved into the visual media, designers have made heavy use of the practice of evoking the future through, symbolically, evoking the past. The idea is that viewers may find it alienating when confronted with costume and styling meant to evoke a different, future society:
While on the other hand, costumes which evoke a past era, give the viewer a set of symbolic cues to work from:
You can see how it works. The first image, from Aelita, Queen of Mars, is based on constructivist art, and consequently leaves us with a blank canvas, meaning the viewer is forced to learn about the society from other symbolic clues. The second, from Blade Runner, evokes the 1940s (while being different enough from actual 1940s fashions to tell us this is the future not the past); straight away the viewer can reach for a palette of associations about the 1940s to sketch in the background to the society (it's probably repressive, hierarchical, subject to rampant surveillance and violent criminal activity, and with an undercurrent of misogyny. There you go, and Sean Young hasn't said a word yet). As with our subconscious approaches to colour, filmmakers can use our associations about the past as a quick and dirty way of introducing us to a society in the future.
However, it's a little more complicated than that. This image looks like it's got more in common with Aelita's constructivism than Blade Runner's nostalgia:
However, Milla Jovovitch's costume is actually based on a piece of early 1970s kinetic art by Rebecca Horn:
So what we have is a costume which seems to evoke an alienating future society, but in fact evokes late Sixties pop-art, giving us a palette of associations: decadence, drugs, way too much day-go plastic.
The costume design of The Fifth Element more generally plays with this, usually giving us enough retro costume elements to evoke a mood or style, while changing them enough to remind us that this is the future, and keep us off balance: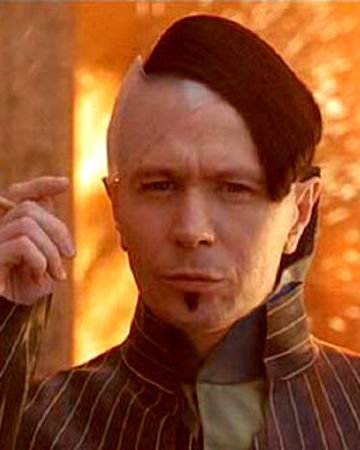 The mixing of periods also tells us something. Note the use of 1940s elements as in Blade Runner, but a shift towards a Sixties pop-art colour palette, and hairstyles more associated with the 1920s and 1930s. So what we get is not a straight set of associations, as in Blade Runner, but a mix: we can expect a society that's repressive, hierarchical, fascist and over-surveilled, but also one with heavy elements of commercialism, of psychedelia, of decadence. By mixing elements of the past, you can develop complicated background world building.
So what does this have to do with Star Wars? Mainly that the early films are textbook examples in how to evoke the past, evoke the past by stealth, and mix the palette.
Dressing Alec Guinness in a gi, for instance, evokes associations to do with Japanese martial arts: skill, codes of honour, feudalism, hierarchies, self-control to the point of (in the movies, at least) feats of magic. Which takes the curse off the fact that he's also wearing a wizard's cloak, and means that, although we still have that association, it's buried beneath, and mixed with, the other associations.
We're so busy thinking of him as General Makabe Rokurōta, that we've forgotten he's actually mostly Gandalf.
Next time! Carrying on with Star Wars, and considering what makes retro-futurism work (and what makes it fail).
Continue reading The Colour Out of Space Opera Part Nine: Nostalgia By Stealth